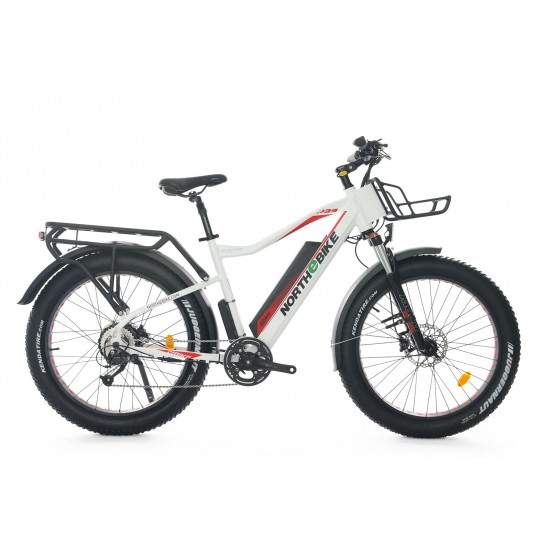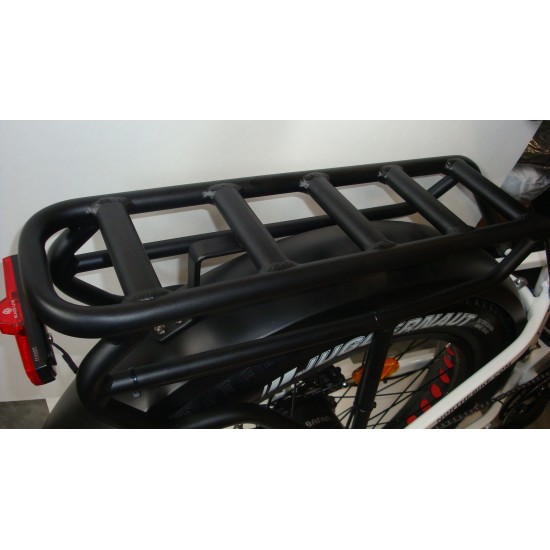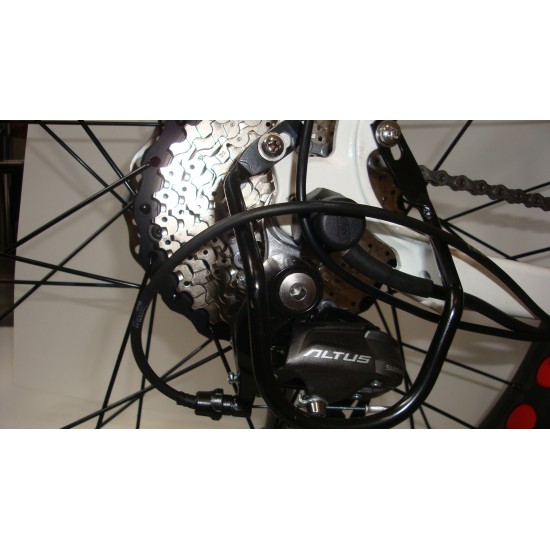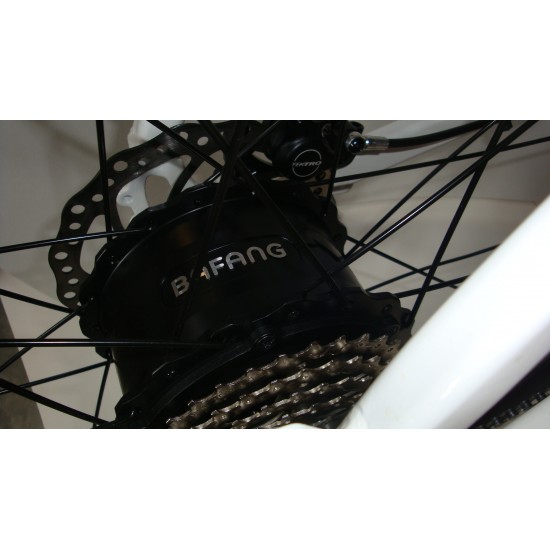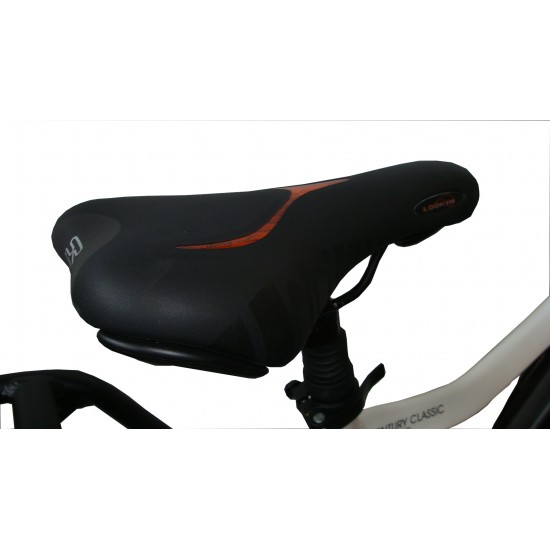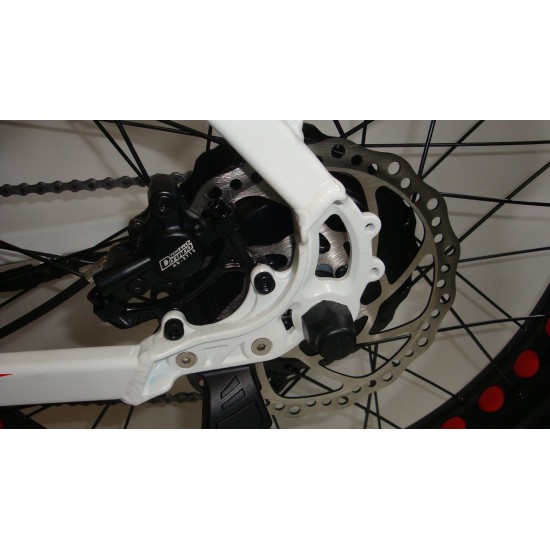 New Hot -21 %







NorthEbike Mountain (WHITE)
NorthEbike Mountain is the top notch of electric bikes that combines speed and comfort.
It boasts 9 speed SHIMANO shifter to adjust your acceleration levels and extraordinary 48V up to 750W of peak power motor that can generate 80nm torque to power you through your journey. It also comes with enhanced Tektro Hydraulic brakes to ensure you have a smooth and fast braking.

The comfort and the pleasure of riding the bike is ensured by the full-suspension and fat Kenda 26''x4 tires.
The weight capacity is 275lb.
One full charge will get you around 80km with the pedal assist.
Charging a battery takes about 3-4 hours.
1 YEAR WARRANTY
eBike's Specifications
Motor
Bafang (8Fun) 750W Electric Brushless DC Motor G06 series. 80 N.m. max torque. Rated Power - 750W Nominal Voltage - 48V Position - Rear Motor Construction - Brushless Geared Motor RPM - 420 Max Torque - 80N.m Efficiency - 80% IP-Code - IP 65 Axle - 135mm
Battery
48V 17.5Ah Lithium-ion with Samsung 3400mAh cells
Stem
Promax MA-570 with adjustable angle 35° - 145
Brake
Tektro Dorado Hydraulic Brakes HD-E715 Disk size: 180mm Front and rear Rotor: Wave type (TR180-16) | High heat dispersion & heat tolerance | Diameter : Ø160mm | Weight : 158 grams Lever: Forged aluminum lever / Cast aluminum bracket | Visualized reservoir | Two pieces bracket | 4 finger blade with ball end | Finish : Black Caliper: Forged aluminum body | Free angle of hose connector for varied frames | Wide pad clearance | Easy pads replacement from top | Finish : Black Pads: Metal ceramic compound | Easy replacement | Available : Durable Sintered Pad A11TS Fluid: Non-Corrosive Mineral Oil | Excellent Heat Expansion Properties
Display
Nokee-LCD Size: 81.6mm x 49.2mm x 6mm Function: PAS level up to 9; Speed; Trip; ODO; Headlight; Walk; Mile/KM; Error Alarm Communication: UART Default; CAN/LIN/CAN Holder: 22.2mm; 25.4mm; 31.8mm Voltage: 24V/36V/48V Certificate: CE/ROHS/IP65 FEATURES: Installation: Clamped to the handlebar vertically Display color: Inverted from what is shown Wiring/Connectors: Two IP65 water resistant connectors Display content: Current speed; Maximum speed; Average speed; Trip time; Trip distance; ODO; KM/H/MPH; PAS; Battery; Headlight; Error; Walk mode; Screen Material: 1mm thick toughened glass Shell Material: Frosted aluminum Color: Black
Shifter
The 9-speed SHIMANO ALTUS M370 rear derailleur use its MEGA 9 DRIVE TRAIN design to deliver smooth, light action shifting performance. Possible to select appropriate gear combination for stress free long riding | MEGA 9 DRIVE TRAIN | Smooth / light action shifting performance | Low profile concept with Double Servo-panta technology | Wide Link for durability and precise shifting | Total capacity: 45T | Color options: Black
Tires
Kenda 26"x4.0 ||| Rims With circular holes and red taps. For Kenda's first foray into fat tires, we looked at our fattest off road tires - motorcycle. Inspired by the championship winning Millville 2 tire for grip in any environment and featuring multiple sizes with tread heights optimized for maximum performance. The Juggernaut is an unstoppable force, is there more we need to say? Kenda Juggernaut 26x4" ||| Tims with circular holes and red taps Item Weight 1.04 Kg Product Dimensions 58.5 x 58.2 x 5.2 cm Manufacturer reference 01204118801 Bike Type Mountain Bike Color Black Weight 1 kilograms Material Rubber
Suspension
Mozo FatMan aluminum alloy suspension with lockout function. 90mm travel. 135mm dropout. 32mm stanchions.
Flat shipping rate for all e-bikes $65
NorthEBike receives and is obliged to pay the quoted price by any shipping company in order to ship any products. Any additional options or charges will not be paid by NorthEBike. Some of these include tailgates, faster delivery, change of address, or missed delivery. If the amount quoted by the shipping company is different than the final invoice, the customer will have to pay the difference.
Stock:

In Stock

Model:

Mountain

Weight:

32.00kg

Dimensions:

78.00in x 17.00in x 48.00in