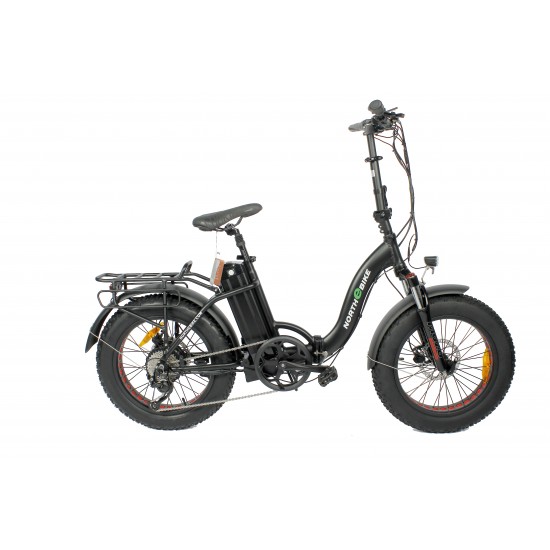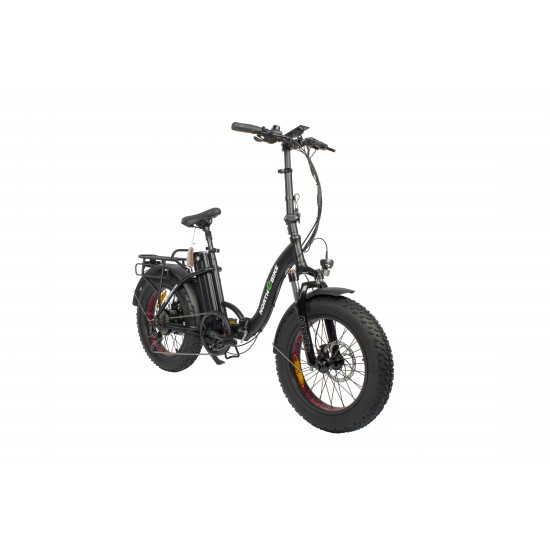 New -27 %

NorthEbike City Step Through (BLACK)
NorthEbike City Step Through is all about making your mobility within the city easy and pleasurable. The e-bike boasts a lightweight foldable frame that allows you to take it anywhere you go. That means it can effortlessly fit in the trunk of your car or in the public transport without taking so much space.
What is even more awesome about it is that its lightweight doesn't come at the expense of a small and weak motor. It is powered by Bafang 500W brushless motor that generates 80nm of torque which can take you up the hills with little effort even if there are strong winds. The electric bike also comes with all of the necessary parts integrated to make your commute safer and more comfortable, such as rear rack, fenders and pair of lights.
For more specification click on the next tab.
The weight capacity is 275lb.
One full charge will get you roughly 80km with the pedal assist.
Charging a battery takes about 3-4 hours.
1 YEAR WARRANTY

eBike's Specifications
Motor
When choosing the hub motor of our bikes we cannot compromise an inch with the quality. That is why the bike is equipped with Bafang (8Fun) 500W Electric Brushless DC Motor G06 series to ensure reliability and longevity. The axle is 135mm and the output is 80n.m. with 80% efficiency.
Battery
48V 16Ah Samsung NCR18650B 3400mAh cells
Brake
Tektro Dorado are top notch hydraulic brakes, designed to endure and perform under extreme usage and conditions. Model HD-E715 is with 160mm front and rear disks. The pads are ceramic and easily replaceable. For full specifications visit: http://www.tektro.com/products.php?p=34
Display
Nokee-LCD has various functions. It shows: - assistant level up to 9 - current/maximum/average speed - trip time and distance - battery charge - headlight on/off - other relevant information It is vertically clamped to the handlebar and it is connected with with two water resistant connectors (IP65). It has 1mm thick toughened glass screen.
Shifter
The 9-speed SHIMANO ALTUS M370 rear derailleur is designed with MEGA 9 DRIVE TRAIN which makes the gear shifting very smooth and fast. Features: - Low profile concept with Double Servo-panta technology - Wide Link - Capacity of 45T
Tires
When it comes to riding on the mountains, fat tires is a must. Therefore, NorthEbike Mountain is equipped with the Kenda Juggernaut 20x4" which are carefully crafted with an optimal tread height and design in order to get an increased grip on any surface; thus, the performance every bike rider desires. Each tire is of color black and it weights 1.04kg
Suspension
Mozo FatMan aluminum alloy suspension with lockout function.
Stock:

In Stock

Model:

City Step Through

Weight:

27.50kg

Dimensions:

39.00in x 22.00in x 29.00in

NorthEbike - The brand that helps